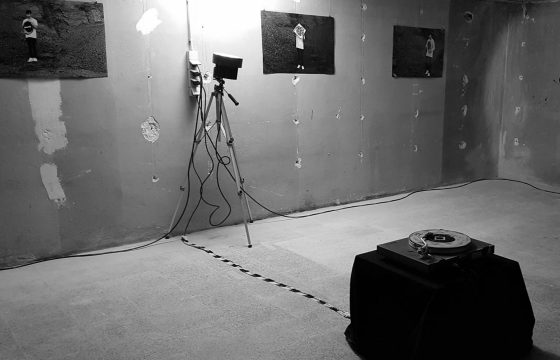 zwischen digitaler stille und analogen umdrehungen
lärm/silence? ansatz #23 – zwischen digitaler stille und analogen umdrehungen
2017-05-05 – 2017-05-21
3 weeks installation in spring 2017 at kunstfrühling, geislingen/steige,
The sum of all the sounds and moments, of all thoughts and encounters, of all feelings and information results in noise. To some, this overflow may cause the feeling of complete tranquility in order to let the thoughts run free. To the others this noise appears as the most tormenting noise, which must be escaped immediately.
peter schubert alias auvikogue asks in his composition "lärm / silence? ansatz# 23" now if the difference of all these inputs results in silence.
In his sound work, closely related to contemporary minimalism, schubert presents a structure, which is demanding but never with low contrasts, from sampled endless grooves, record players, electroacoustic compositional methods and feedback loops.
"lärm/silence? ansatz #23" tries to raise the question of noise and silence, but leaves it up to the listener to answer this himself. In the reverberation of seemingly infinite turnings, the listener finally has time to devote himself to the theme in a contemplative manner.
2017-09-23
release on cd via klanggold records in limited edition of 25
peter schubert:
turntable
vertigo lp
contact microphones
decoration sand
endless groove/parallel grooves
electromagnetic microphones
field kit
no fx